World Sight Day (WSD) is an annual day of awareness held on the second Thursday of October, to focus global attention on blindness and vision impairment.
International Key Messages
36 million people who are blind

217 million people with moderate or severe distance vision impairment

Of those with blindness and MSVI, 124 million people have uncorrected refractive errors and 65 million have cataract—more than 75% of all blindness and MSVI is avoidable

253 million people blind or vision impaired (in 2015)

1 billion people with near-vision impairment

The prevalence of blindness and vision impairment combined has dropped from 4.58% in 1990 to 3.37% in 2015.

89% of vision impaired people live in low and middle-income countries

55% of moderate or severely vision impaired people are women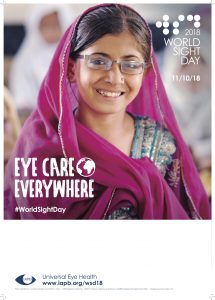 As we celebrate this year's World Sight Day, there is a clarion call for stakeholders everywhere to take a stand for eye care. let us draw attention to eye care issues so that everyone, everywhere has access to good eye health. 
To create awareness, we are presenting valid answers to some questions from our patients on eye health. Download the Ask the Eye Doctor Edition.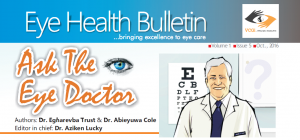 Read and Share: Ask the Eye Doctor