Kim, a young Korean secretary works in a reputable IT firm. She is quite smart and very dedicated. Her typical daily routine involved; planning and preparing minutes for board meetings, reading and replying thousands of emails from clients, following up with internal and external memos. She works eight hours daily and most of which is spent staring at her computer screen. Some weeks back, Kim started having severe headaches and her eyes are itchy and always red. Most times, when she closes from work, on her way home, everywhere appears blurred and she finds it difficult driving home. Just recently, it has become worse for Kim, she comes to work with high expectations and a sense of achieving so much for the day, only to find herself sleeping on her computer instead of working.
This has become a burden for Kim, she doesn't know what is wrong or what to do, her job is now grossly affected; she has missed several deadlines and risk losing her job. Today Kim decides to surf the internet in search of her problem.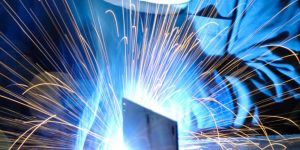 Chima, a Nigerian Welder,   has been a welder for over 35 years; even though he is just 39 years old.  Chima's father was a known professional welder and like the custom of the Igbos, chima being the first son accompanied his father to the shop regularly. He developed an interest in welding very early and performed his first arc welding at 4years old. Chima is synonymous to iron, as he is fondly called 'iron man'. He prides as the only man in the area that can look at the welders flame with his bare eyes, as he never bothered to use protective helmet or goggles, he actually didn't have one. He always said 'those things' are for lazy people. Today, Chima is no longer welding, he can't see very well, he only sees flickers of light and his vision is very dim, near blindness. He believes it is the diabolic work of his detractors, not stopping to point fingers at mama Chinedu, the woman that sells food close to his shop. Obinna, Chima's first son, is all out to find out what possibly affected his father's sight and he is desperately seeking answers, as he has become a welder too.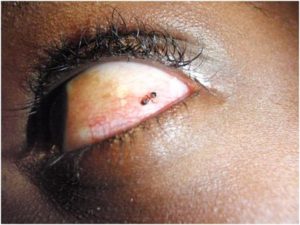 Ashanti,  a businesswoman, lives in Kumasi, she has a motorcycle with which she uses to go into the village markets around Kumasi to source for different food items and comes back to sell them within the main city. She is a very hardworking woman, an example of a typical African woman.  Every day she wakes up very early and hits the road on her motorcycle going from village to village in search of cheap food.  On a fateful day, she was a bit behind time, and she was racing to meet up with the market time in one of the villages, suddenly, she felt a sharp pain around her forehead, towards her right eye, as if something entered her eyes. It was very painful; she managed to control the motorcycle to a halt and tried using her hands to clean her eyes. Everything she did seemed ineffective, she struggled to drive back home. She had used an eye drop from a local chemist, all to no avail; the eyes are now very red and swollen. Ashanti has been at home for two weeks now, her business is suffering, and her clients are stranded. She is yet to discover that the moment she felt the sharp pain on her forehead, while on the motorcycle, a live insect actually entered her eyes and has been lodged in there for two weeks now. Florentina, Ashanti's first daughter is in search of answers.  She decides to chat with Shantel on facebook about her mum's situation.
Kim, Chima, and Ashanti seem to have something in common, they developed issues with their eyes in the course of their work. As Kim goes around the internet in search of answers, suddenly she stumbles on an article on a blog with the title ''eyes at work (episode 2)". She thought to herself, if only I saw this before now, things would have been different.  Chioma, Chima's young daughter comes screaming, 'I know why!!!' Obinna intercepts her and tries to calm her down. You know why what? He asked. Still panting, she said, I know why daddy is almost blind, it's not mama Chinedu, she shows Obinna her brother the article she just read, ''eyes at work (episode 3)''.  As Florentina and Shantel discuss her mom's eye problem. Shantel stumbles upon a shared link with the bold inscription ''eyes at work (episode 4)'', she reads it only to find the answers Florentina has been searching for and she decides to share the link with her.
Many of us have not come to realise the importance of our eyes to our work. If we did, we possibly would have done things differently. We go to work like Kim without understanding the impact of our work on the eyes and the safety measures to apply. Some others like Chima would say I have been doing this job for more than 30years, if it was to affect my eyes, it would have done so long ago, forgetting that little drops of water make the mighty ocean. Most people like Ashanti, will wait for the day of total collapse before seeking for attention and do the right things. The importance of our eyes to our work cannot be overemphasized. You can't work well if you don't see well, therefore, protecting our eyes means protecting our work. If you lose your sight because of your job, be rest assured, inevitably, you will lose your job because of your sight.
PS:  Subscribe to our mailing list to get New post notifications in your mailbox.