Today global health partners commemorate World AIDS Day under the theme "Know Your Status".
HIV (human immunodeficiency virus) infects cells of the immune system. Infection results in the progressive deterioration of the immune system, breaking down the body's ability to fend off some infections and other diseases. AIDS (Acquired immune deficiency syndrome) refers to the most advanced stages of HIV infection, defined by the occurrence of any of more than 20 opportunistic infections or related cancers.
HIV can be transmitted through:
the transmission between a mother and her baby during pregnancy, childbirth and breastfeeding.

unprotected sexual intercourse with an infected person;

transfusions of contaminated blood or blood products or transplantation of contaminated tissue;

the sharing of contaminated injecting equipment and solutions (needles, syringes) or tattooing equipment;

through the use of contaminated surgical equipment and other sharp instruments.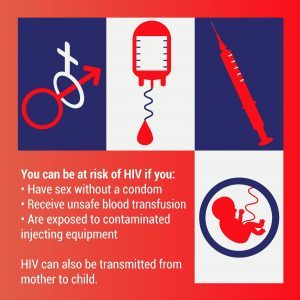 As a result of recent advances in access to antiretroviral therapy (ART), HIV-positive people now live longer and healthier lives. In addition, it has been confirmed that ART prevents onward transmission of HIV.
Nearly all young children newly infected with HIV are infected through mother-to-child transmission (MTCT). Without treatment, the likelihood of HIV passing from mother-to-child is 15% to 45%. However, Anti-retroviral Therapy(ART) and other effective PMTCT interventions can reduce this risk to below 5%.
 HIV transmission from mother to child can be prevented following these measures:
Access to Antenatal services and HIV testing during pregnancy;

Use of Anti-retroviral therapy(ART) by pregnant women living with HIV;

Safe childbirth practices

Appropriate infant feeding;

Uptake of infant HIV testing and

Access to other post-natal healthcare services.
While formula feeding offers the safest option for postnatal HIV prevention, in resource-poor settings it is not always easy for families to afford formula or access things such as clean water which is needed for its use. So, in resource-poor settings, when formula feeding is not a viable option, World Health Organisation (WHO) advises women living with HIV to exclusively breastfeed (rather than mixed feeding), providing that they are on ART.
Infant HIV testing is done between 4-6 weeks of age. WHO further recommends that another HIV test is carried out at 18 months and/or when breastfeeding ends to provide the final infant diagnosis.