In the course of the series, we have established that certain disorders can affect sleep. These disorders drastically interfere with quality and quantity of sleep.  As a result, sleep patterns are abnormal and negatively affect health. In this episode, we would continue with the disorders and possible treatment available.
Let the revolution Continue!!!
Sleep Apnea
Sleep apnea is a common and serious sleep disorder. It is often called Obstructive Sleep Apnea, as it causes sufferers to stop breathing during sleep. The airway repeatedly becomes blocked, limiting the amount of air reaching the lungs. When this happens, the person begins to snore loudly or make choking noise in an attempt to breathe. In the course of the struggle, the brain and body become oxygen deprived and a wake up is almost inevitable. This may happen a few times a night, or in more severe cases, several hundred times a night.
In many cases, an Apnea, or temporary pause in breathing, is caused by the collapsing of the tissue in the back of the throat. During sleep, the muscles of the upper airway relax and this may cause the tongue to fall backwards by gravity, especially when lying with the back. This narrows the airway, which reduces the amount of air that can reach the lungs.
Symptoms & Risk Factors
Symptoms
The most common symptom of sleep apnea is snoring, although not all snoring is indicative of an apnea. Snoring becomes a sign of sleep apnea when it is followed by silent breathing pauses and choking or gasping sounds.
Common symptoms of sleep apnea include:
Loud or frequent snoring

Silent pauses in breathing

Choking or gasping sounds

Daytime sleepiness or fatigue

Unrefreshing sleep

Insomnia

Morning headaches

Nocturia (waking during the night to go to the bathroom)

Difficulty concentrating

Memory loss

Decreased sexual desire

Irritability
Risk Factors
The major risk factor for sleep apnea is obesity. Although Sleep apnea can occur in slim people, excess body weight makes it more likely to happen.
Common risk factors for sleep apnea include:
Excess weight – the risk of sleep apnea is higher in overweight and obese with Body Mass Index of greater than 25
Large neck size – sleep apnea risk increases with neck size. For men, a neck size of 17inches or more and for women, a neck size of 16inches or more increases risk as a large neck has more soft tissue that can block the airways during sleep.
Middle age – it is more common in young adulthood and middle age.
Gender – Sleep Apnea is more common in men than women. The risk in women increases with menopause.
Hypertension – High blood pressure is extremely common in people with sleep apnea because of poor sleep patterns
Family history – inheritance plays a significant role in sleep apnea, as certain inherited traits like obesity and recessed jaw increase chances of developing it.
Treatment
i.            CPAP (Continuous Positive Airway Pressure) – CPAP is a machine that uses a steady stream of air to gently keep the airway open throughout the night and ensure uninterrupted breathing. Patients wear a face or nasal mask during sleep. The mask, connected to a pump, provides a positive flow of air into the nasal passages in order to keep the airway open. CPAP is the frontline treatment for obstructive sleep apnea and is recommended for all cases.
           
ii.            Oral Appliance Therapy – An oral appliance is a device that fits into the mouth over the teeth during sleep. The device prevents the airway from collapsing by holding the tongue in position or by sliding the jaw forward so that the wearer can breathe continuously while sleeping. Some patients prefer sleeping with an oral appliance to a CPAP machine. Oral appliance therapy is recommended for patients with mild to moderate apnea who cannot tolerate CPAP.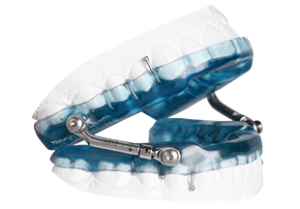 iii.            Surgery – Surgical therapies are not as effective in treating sleep apnea as CPAP and oral appliances. The most common options reduce extra tissue in the throat that collapses and blocks the airway during sleep. More complex procedures can adjust the bone structures including the jaw, nose and facial bones. Weight loss surgery may also be an option.
iv.            Weight Management – in some cases, weight loss can reduce or eliminate the symptoms of sleep apnea, since being overweight or obese is a major risk factor.
v.            Positional Therapy – positional sleep apnea is an apnea that happens because of the sleeping position of the individual. Some people have sleep apnea primarily when sleeping on their back and their breathing returns to normal when they sleep on their side. Positional therapy is a behavioural strategy to treat positional sleep apnea. Positional therapy may involve wearing a special device around the waist or back. It keeps the wearer sleeping in the side position. Another option is a small device that uses "vibro-tactile feedback" technology. Worn on the back of the neck, it gently vibrates when the individual begins to sleep on your back. This vibration alerts the body to change sleeping position without necessarily waking up the wearer.
vi.            Lifestyle Changes – there are certain lifestyle changes that can reduce sleep apnea symptoms. Some behavioural changes have proven to be helpful: -Quit Smoking, -Stop drinking, alcohol relaxes throat muscles and makes airway collapses more frequent.
 
Recommended Books for Further Reading


Was this article useful, let us know
Cheers to your health.