The two biggest causes of childhood mortality in the developing world today are diarrheal disease and respiratory tract infections. The simple act of washing hands with soap can reduce diarrhoeal risk by almost half, and respiratory tract infection by a third. 
Hand washing interrupts the transmission of disease agents and so can significantly reduce diarrhoea and respiratory infections, as well as skin infections. Hand washing with soap should be a universal act.
Hand washing with soap is an essential do-it-yourself vaccine. Keeping hands clean through improved hand hygiene is one of the most important steps we can take to avoid getting sick and spreading germs to others. It is also a simple way of protecting your family and children. Washing hands with soap and water are the best way to reduce the number of germs on them in most situations. If soap and water are not available, use an alcohol-based hand sanitizer that contains at least 60% alcohol.
Even if your hands appear to be clean, they may carry germs. Hands pick up germs in a number of ways. Germs can spread through:
touching dirty hands

touching contaminated surfaces

changing dirty diapers

contaminated water and food

droplets in the air released during a cough or sneeze

touching contaminated surfaces

contact with a sick person's body fluids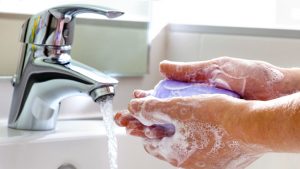 When should you wash your hands?
Hand washing with soap at key times is an effective thing you can do to protect yourself and children against infectious diseases, such as influenza (the "flu"), common cold, diarrhoea, typhoid, cholera, worm infestations and skin infections.
Critical times to wash your hands include:
Before, during, and after preparing food

Before eating food

Before and after caring for someone who is sick

Before and after treating a cut or wound

After using the toilet

After changing diapers or cleaning up a child who has used the toilet

After blowing your nose, coughing, or sneezing

After touching an animal, animal feed, or animal waste

After handling pet food or pet treats

After touching garbage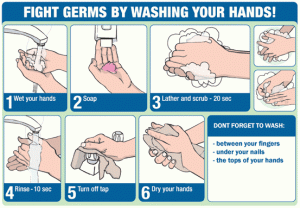 How to wash your hands
 Wet your hands with clean, running water (warm or cold), turn off the tap, and apply soap.
Lather your hands by rubbing them together with the soap. Be sure to lather the backs of your hands, between your fingers, and under your nails.

Scrub your hands for at least 20 seconds.

Rinse your hands well under clean, running water.

Dry your hands using a clean towel or air dry them.
Using soap to wash hands is more effective than using water alone because the surfactants in soap lift soil and microbes from the skin. Germs can be transferred more easily to and from wet hands; therefore, hands should be dried after washing. Studies suggest that using a clean towel or air drying hands are best. If you have children, teach them good hygiene and how to wash their hands properly.