How satisfying it used to be, the evening stories that led to good sleep, good dream: "
…And the day came; all the beautiful ladies in the city were assembled before the Prince. One after the other, they walked down the palace hall of his majesty until finally she was found. The perfect fit for the Prince. They married and lived happily ever after."

There are many thoughts from this story, one of which that stood out is that when you finally find what suits you, the sense of satisfaction follows immediately. That is exactly how you are supposed to feel when you pick the right frame that fits rightly for your face and appearance.
I have seen people wear spectacles that make them look 5 years younger than their real age, also have seen people looking 10 years older because of the frame they have on. How do we identify the right fit for our faces? Good question. This is it.
It's a popular saying that our faces are different. This indeed is true. But, somehow there are similarities that help to classify faces into categories. Over time we have been able to classify faces into groups linking their facial appearance to shape of solid figures.
This gives us the grouping of faces into
– Oval shape
– Triangle shape
– Diamond Shape
– Heart shape
– Square shape
– Round shape
– Oblong shape
The truth is that you will never find a person's face that is a perfect shape, there are always little changes in the contour here and there but it sure would have a group that its closest to.
To pick a frame that will just fit right for your type of face and frames you should avoid, I would just let the diagrams below do the talking while you can stand in front of your mirror and compare where you fit into, and identify the suitable frame for your face.
Oval
Characteristic: Slightly wider cheekbone and gentle curves and narrowing at the jaw and forehead.
Heart
Characteristic: wide at the forehead and gradually narrows through to the jaw.
Triangle
Characteristics: widest at the jaw and gradually narrowing through to the forehead.
Square
Characteristics: Angular face with cheekbone, forehead and jaw equally wide.
Round
Characteristic: Soft angles, the jaw and forehead are equally wide while the cheekbone is slightly wider.
Oblong
Characteristics: It is the combination of the oval and square face.
Equally wide cheekbone and jaw; narrowing at the forehead and chin areas.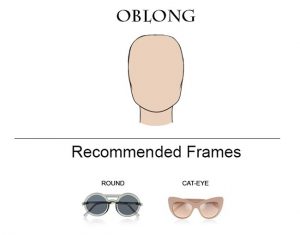 Diamond
Characteristics: It's derived from the combination of the heart and square.
Equally wide forehead and cheekbone; narrowing to the jaw.
Your frames are always made to compliment your face structure and give you a great appearance. Since you would be wearing your glasses quite often whether as Sunglasses or Prescription Lenses, it makes sense to pick a frame that would improve your confidence and appearance alongside the Lenses for comfortable vision.
When you finish reading this article, look at your face very well in the mirror and give yourself a category as illustrated above or ask someone to do it for you. And next time you want to pick a frame for your prescription lenses or for your Sunglasses you would know how to get your best fit.
PS:  Subscribe to our mailing list to get New Post notifications in your mailbox.