Two things are very important to every human. First is being alive, second is the ability to see. Nobody would want to give up seeing for anything. This is why our sight is such a high premium and priority in every case. But how many people care to protect this precious gift of the creator to every being?

Over the years of human development, man has come to develop items that help to protect different parts of the body, to reduce its contact with external factors that could pose harm or threat; hence clothes came for covering in different weather, shoes for the foot against the hard ground texture, gloves, cap, helmet etc. And these materials come in various degree of protective capability. It's almost very easy to neglect the eyes. This is why eye wears go beyond just fashion but also extends to protection and guarantees good, comfortable vision in varying conditions.
Today let's talk about protective properties in our Sunglasses which makes them a daily necessity and also fashionable.
TRANSMITTANCE
First key thing to look out for is how much of light would pass through the sunglasses to reach your eyes while still protecting the eyes from harmful light (UV Rays) and sun glare. This is called the transmittance. Your sunglasses are targeted to protect your eyes mostly from UVA (between 315nm to 400nm wavelength) and UVB.
How would you know a Sunglass that offers this protection?
This is revealed by a code written on your sunglass especially the inside part of the temple arms. This code indicates the standard for which the sun glass has satisfied. The international standard for sunglasses is ISO 12312,
For Sunglasses available from Australia, the most recent standard is AS-NZS 1067. This defines standards for sunglasses with respect both to UVA (wavelengths between 315 nm and 400 nm) and UVB transmittance.
For Sunglasses available in Europe watch out for the CE mark

on the glasses. This means it has satisfied the European standard to offer a safe level of Sun protection. The most current standard is the EN 1836:2005.
The American (U.S) standard is ANSI Z80.3-2001, which offers protection on 3 categories of transmittance (UVA, UVB, and UVC).
With these standards in mind, other things that we can consider in picking a nice sunglass to match your appearance includes:
TINT
This is a key ingredient in your sunglasses that controls the amount of light transmitted through the glasses to the eyes.
Different colours of the tint have a different feel for your comfort.
Grey and green tint lenses are neutral because they maintain true colours.
Brown tint cause some colour distortion but increase contrast as well.
Turquoise tints are good for medium and high light conditions, they enhancing contrast, and do not cause significant colour distortion.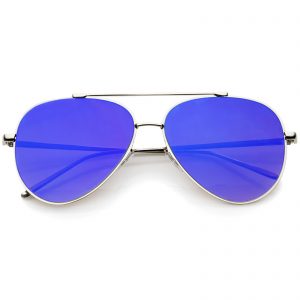 Yellow is great for object definition, though it creates a harsh visible light; allegedly makes distant objects appear more distinct, especially in snow or haze. These lenses are very good for night driving, skiers, hunters, boaters and pilots".
For cosmetic appearance, we can have Blue or purple tint.
GRADUATED TINT
This type of sunglasses offers you a level of convenience by reducing the tint as it progresses from the top of the lens to the bottom. This is helpful when you want to look at near objects, in which case you may not require much of the tint in the lower section of the glasses for viewing objects within your arm's length.
POLARIZED SUNGLASSES
These have fixed tint and made of polarized sheets that reduce glare by controlling reflection from non-metallic surfaces like water.
IRIDESCENT SUNGLASSES

This is another fashion touch to sunglasses. These lenses exhibit an optical phenomenon in which the colour or hue of the lens changes with the angle of observation and angle of illumination.
MIRROR SUNGLASSES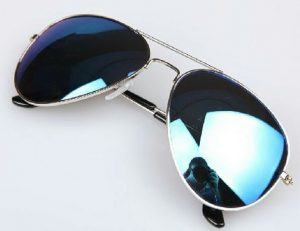 This is a trendy sunglass, it is actually a coating introduced over the sunglasses to make it look like a mirror. It further helps to reduce the amount of light that is transmitted through the lens. The mirror coat does not affect the actual tint of the lenses. A grey tinted lens can have a blue mirror coating.
SIDE SPACE
Your sunglasses should have space by the side. It is necessary to give you a good vision from the side especially in a driving situation.
Other interesting addition to your sunglasses you should look out for.
– Antireflection coating: Just like the name, it helps to reduce reflection on the surface of the sunglasses.
– Hard coating: To prevent scratches.
Nose bridge: This is the connecting part of the glasses in between the two eye wires and also carries the Nose pad that keeps the frame in place in front of your face. it's for support on the face.
If you have a large nose, a low nose bridge would be OK for your sunglasses
A medium nose can take a low to medium nose bridge
Low nose bridge will be suitable for a small nose.
OK, enough of the talking go out there and get yourself a nice, fabulous pair of sunglasses, give yourself a great look while protecting your eyes.
Get full gist, start reading from Why you need sunglasses 1
Don't forget to subscribe to our mailing list…