World Cancer Day is a campaign built to resonate, inspire change and mobilise action long after the day has passed.
A multi-year campaign offers a chance to create long-lasting impact by increasing public-facing exposure and engagement, more opportunities to build global awareness and impact-driven action.
World Cancer Day is an international day marked on February 4 to raise awareness of cancer and to encourage its prevention, detection, and treatment. World Cancer Day was founded by the Union for International Cancer Control (UICC) to support the goals of the World Cancer Declaration, written in 2008. The primary goal of World Cancer Day is to significantly reduce illness and death caused by cancer and is an opportunity to rally the international community to end the injustice of preventable suffering from cancer.
World Cancer Day targets misinformation, raises awareness and reduces stigma. Multiple initiatives run on World Cancer Day to show support for those affected by cancer.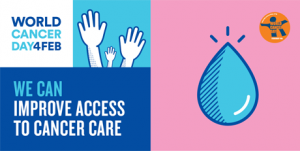 #IAmAnd

IWill
Whoever you are, you have the power to reduce the impact of cancer for yourself, the people you love and for the world.
It's time to make a personal commitment.